---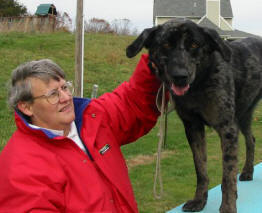 We make a living by what we get,
but we make a life by what we give.
Winston Churchill
Martha brings years experience working with pets and their families. She created a guidance based training method, which builds skills through small successful exercises creating a strong working relationship between dogs & their handlers.
She holds certificates in canine behavior from The University of Guelph, Tufts School of Veterinary Medicine, Cornell University and the University of Pennsylvania School of Veterinary Medicine. An avid lifelong learner, Martha regularly attends seminars on canine behavior and the newest training techniques.
Martha has lectured nationally for the American Boarding Kennels Association ( ABKA ) on Dealing with Aggressive Dogs and Understanding Canine Behavior. She has assisted Northeast Utilities, CNG and several Northeast cable companies by educating their employees on how to pro-actively protect themselves from aggressive dogs and manage potentially dangerous canine situations.
In the aftermath of hurricanes Katrina and Rita, Martha's dedication to animal welfare compelled her to volunteer her time and services. Martha learned about a shelter which was over capacity with dogs rescued from Hurricane Katrina. This shelter was subsequently severely impacted by Hurricane Rita. She collected donated supplies and traveled to the Lake Charles area of Louisiana where, for three weeks, she worked side by side with local staff to help manage the many displaced pets.
She is a proud member of the Hartford Obedience Training Club, the Association of Pet Dog Trainers and is an AKC approved Canine Good Citizen Evaluator and Certified Trick Dog Instructor.

Martha currently shares her life with Kismet a 5 year old German Shepherd Dog and Journey an 12 year old Catahoula Leopard Dog from Louisiana and Furby a 2yr old Schipperke.
---
Destiny Martha's companion of 14 years lives fondly in her memories and is always in her heart.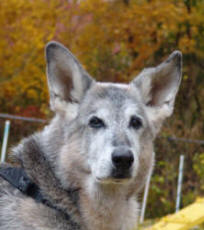 ---
| | |
| --- | --- |
| | |
---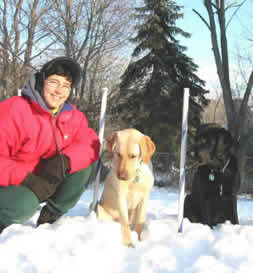 Lynn Spagnesi:
Lynn brings a diverse background in behavioral education to her learning sessions. With her BS in Education, Masters in Special Education and minor in Psychology, she began her educational experiences working in teacher training programs
teaching, officiating and coaching athletes at the Division 1 collegiate level.
She
accumulated 37+ years of
designing unique special education programs, working in the fitness area with extremely challenging populations, teaching aerobics and doing Human Performance Training. Lynn has accrued 16+ years working with Connecticut Valley Dog Training (Smartydog Center For Canine Enrichment) under Martha Bailey. No stranger to high level competitions, Lynn was a 5 star college athlete, as well as the 1972 AAU Pentathlon Eastern Region champion. She was inducted into the Connecticut Women's Basketball Hall of Fame in 1998 and the Connecticut Women's Volleyball Hall of Fame in 2003.
Lynn began working with dogs in 1978 when she was teaching and coaching women's college basketball and one of her players arrived at practice with a puppy in every pocket of her jacket. The puppies were abandoned during the Northeast's '78 blizzard! From that venture, she sought to increase her skills in the canine world. She was gifted to share 17.5 years with "GEORGE" a behaviorally creative "mix" from that rescued litter.
Lynn regularly attends behavioral seminars. She has attended canine seminars and workshops with Stacey Peardot Goudy, John Rogerson, Steve White, Patricia McConnell, Debbie Hutchinson, Terri Cesarak, Brenda Aloff, Mary Ellen Barry, Anna Eiffert, Judy Reilly, Pat Miller, John Nys, Mary Jo Lavin and Sue Sternberg. She credits most of her canine behavioral hands on learning to Martha Bailey.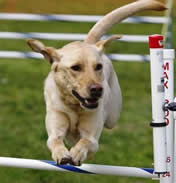 Lynn specializes in foundational activities designed to build confidence while improving the human/handler connection in the performance sports team. Lynn spends the majority of her time outdoors, enjoying life and "Cross-Training" her dogs, a method which integrates confidence and directional work with problem solving challenges. Ahead of the field, in 2010, Lynn instituted a CORE-Fitness Class for dogs.
Lynn places the human-canine "TEAM" connection above all other skills. She has enjoyed "playing" FORMAL agility since 2000 with Buddy, a robust, highly enthusiastic rescue Labrador retriever. Lynn credits Buddy with being one of her greatest agility instructors. Buddy crossed the rainbow bridge in 2011.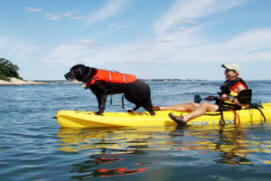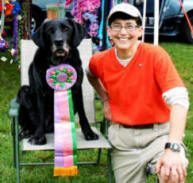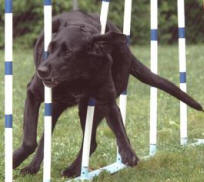 Buddy (Buddy Balm of Cook Hill), taught LYNN how to guide him to his C-atch-3, CT-atch, Nadac Elite titles, P2 USDAA titles, and the level of Excellent in AKC before he crossed the rainbow bridge in 2011. He also earned his CGC and was a registered Therapy Dog
Billy-Joe
Since Billy Joe Hunter joined the family he has achieved his AKC MACH, a CPE C-ate, 2 C-atch's, his Usdaa MAD and Elite Nadac titles in all classes as well as his INTERMEDIATE TRICK dog title and CGC. Billy-Joe was also a registered Therapy Dog.
He regularly competed in the highest levels across several agility venues until his retirement in 2013.
Known for having fun - Q or NQ - you can often catch them smiling as they negotiate their courses!
In 2012, Billy-Joe added tracking and noseworks to his repertoire before crossing the rainbow bridge in 2013.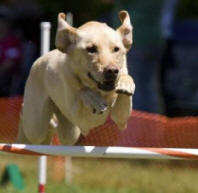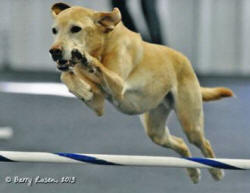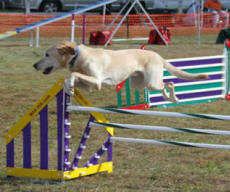 Jambi-Joe
(Your Wish Is Granted Long Live Jambi), is known as "The Professor". He enjoyed his SMARTYDOG puppy and basic lessons and continues his participation in Smartydog's FLEX program. JJ also participates in competition obedience, rally and many core, confidence and foundation activities! Jambi-Joe achieved his AKC Rally Novice Title before he was 2yrs old! Known as a rock steady agility dog, he achieved his AKC PACH championship in 2013 before the age of 3. He has since earned his CPE C-atch and C-ATE titles. He competes in USDAA at the Master's level and Nadac at the Elite level. Known for being a "thinking" dog, he has his Advanced Trick Dog Title and recently passed all 3 noseworks "ORTS" on his first attempt.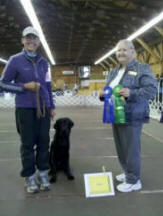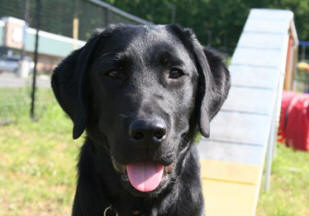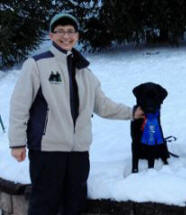 At only 11 months of age, Jambi-Joe placed 1st two consecutive days with scores of 99 and 100 in Rally Novice at the
Labrador Retriever National Specialty in 2011.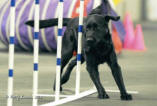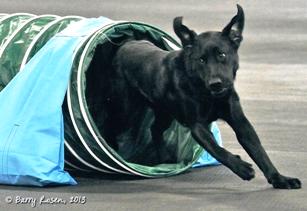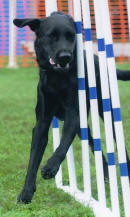 "DoJo"
(Mistyfield's Dance With An Angel), is the youngest of the Joe Boys! Having graduated from Puppy and Basic classes, he is currently participating in Smartydog's Flex and specialty classes - He began his competition agility career in 2015 and is currently competing in the AKC Excellent/Master's levels. He also competes in CPE and USDAA, loves noseworks and will begin his obedience career in the spring of 2016. Named "DOJO" after the schools of "respect and learning". He will be Lynn's next teacher!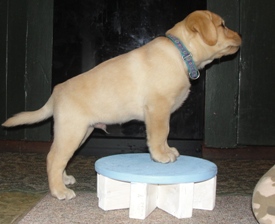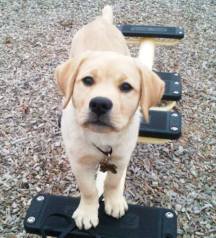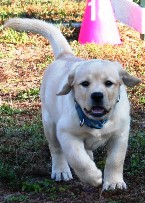 ---
Congratulations to Lynn
and Buddy, Billy-Joe & Jambi-Joe on their many accomplishments in Agility
( look at that pucker face )

Congrats to Lynn and Buddy Balm of Cook Hill C-ATCH1, C-ATCH2, C-ATCH3,
Cs-ATCH on their 4th Catch,

AKC MACh, a CPE C-ate, USDAA AAD
and Elite titles in all NADAC classes

Congratulations to Lynn and Billy Joe Hunter on their AKC MACh title. 10/2011


Congrats to Lynn and Jambi-Joe on their two Rally-Obedience legs earned at the Lab Nationals with first place scores of 99 & 100. As well as his agility titles: PACH, C-ATE and
C-atches.
---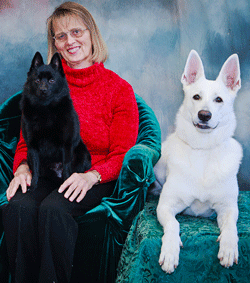 Education:
• Earned a degree as a Veterinary Medical Technologist, Bel-Rea Institute of Animal Technology Denver, CO
• Completed Animal Behavior Courses at the University of Guelph - Toronto
• Certified in Pet CPR and Emergency First Aid - Animal Health Foundation -Orlando
• Certified as a Disaster Animal Response Team Member – HSUS Warwick, RI
• Certified in Animal Capture, Restraint and Field Chemical Immobilization – Animal Care Equipment and Services, Durham NH

Professional Experience:
26 year career with the Town of West Hartford Police Department retiring as Chief Animal Control Office
Honors:
• Police Merit Commendation for service and dedication to the ideals of the West Hartford Police Department and
Town of West Hartford concerning a dog bite case involving a child.
• Statement of Recognition issued by Governor John Rowland for her strong commitment to law enforcement and Town of West Hartford.

Professional affiliations and activities:
• Past President and member of the National Animal Control Association, currently serving on the Board of Directors.
• Past President and current member of the Connecticut Animal Control Association
• Member of the National Coalition developing response plans for FEMA in the event of national disasters (she does not work for FEMA)
• Consultant on the Compendium of Animal Rabies Prevention and Control Committee (she is the only lay person on the panel)
• Evaluator for Animal Control Departments throughout the United States, ensuring compliance with National Standards
• Board of Directors of the New England Animal Control/Humane Academy in New Hampshire currently serving as Assistant Director & Instructor
• National Task Force for Animal Hoarding
• New England and State of Connecticut Task Force for Animal Fighting
• Member of the New England Stock Dog Association
• Member of Curriculum Advisory Committee, University of New Hampshire, Thompson School of Applied Science

Teaching Experience:
• Cruelty Investigation Instructor for Police Officers and Animal Control Officers
• Certified as an Instructor to teach at the FBI and Police Academy
• Teaches Cruelty Investigation, Criminal Law and First Aid to Police, Animal Control and Humane Officers at the University of New Hampshire
• National and Connecticut Animal Control Association
• Numerous Kennel Clubs and Schools

Author – National Animal Control Association Training Guide – Disaster Planning

American Kennel Club
• Certified Canine Good Citizen (CGC) evaluator
• Completed Obedience requirements for becoming an AKC Obedience Judge. Completed Rally requirements for becoming an AKC Rally Judge

Other Certifications
• Certified Trick Dog Instructor CTDI
• Completed training to become a Certified Noseworks Instructor CNWI

United Kennel Club
• June 27, 2010 - acquired Championship titles on her 7 month old Schipperke, Chaos and her 11 month old
White German Shepherd, Hope.



Congratulations to Lorrie
on her UKC Champions... Hope & Chaos
| | |
| --- | --- |
| | |
| U-CH Braehead's Hy-Hope for Mt. Mist | U-CH. Mt. Mist's Spirit of Sunrise |
---