I am always looking for new things
to teach my dog, new adventures to share.

Over the years I have so many great memories of the
adventures I have enjoyed hiking & camping with my dogs.

I have also enjoyed many wonderful
kayaking adventures with my dogs.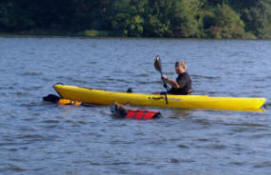 If you are interested in kayaking with your dog.
The Smartydog Center is now offering kayaking sessions.
We will provide the kayak, paddle, human life jacket & a canine life jacket.
( you may also use you own life jackets if you prefer )
All dogs must some control skills
to be considered for a kayaking session.

Kayaking sessions are weather dependant.
Kayaking sessions:
Kayaking sessions can be adapted to
your skill level and individual preferences.
If you don't have any kayaking experience, you may want your first session
to be without your dog so you can learn to navigate a kayak.
(this would be helpful especially if you have a large dog)

The first session with your dog will consist of teaching your dog to get
in and out of the kayak on land and ride in the kayak with you.
If your dog knows how to swim additional kayaking skills
would include teaching your dog to swim along side your kayak and
teach them to get in and out of the kayak out on the water.
If you are interested in
kayaking with your dog email me at smartydog1@aol.com

If you have been kayaking with your dog
send us a picture to add to our k-9 kayakers page.

Kayaking Dogs
| | | |
| --- | --- | --- |
| | | |
| Wilderness Systems Pungo 120 | | Liquid Logic Manta Ray 12' |